Greg Corke test drives AMD's new affordable $399 pro graphics card that delivers real time viz and VR capabilities for the price of a typical CAD-focused GPU
For years, the sub £400 graphics card has been a mainstay of the CAD and BIM workstation. Each new generation delivers more power, but because of the nature of most CAD and BIM software, better performance on paper might not necessarily translate to a better experience for the end user.
The fact is, the majority of 3D design software is very CPU-limited. In other words, 3D performance is bottlenecked by the CPU, not the GPU. So, even if you got the most powerful workstation graphics card in the world, your 3D model still wouldn't move more smoothly. With top-end cards costing close to £5,000 you could end up wasting lots of money on graphics processing power you never use.
But workflows are changing. In architecture in particular, the use of real-time visualisation and Virtual Reality (VR) is on the rise. These applications are extremely GPU intensive and are not bottlenecked by the CPU in the same way that CAD software typically is. Tools like Enscape, Lumion, Twinmotion, Unity, Unreal Engine, IrisVR, VR4CAD, eDrawings Professional and more will happily devour all the graphics processing power you throw at them.
If you currently own a sub £400 professional graphics card you probably won't be getting the performance you need for real-time viz, especially at 4K resolution. And you can forget about VR. To use these GPU hungry applications effectively you'd have had to invest in a more powerful and more expensive GPU. The 'VR Ready' Nvidia Quadro RTX 4000 and AMD Radeon Pro W5700 would certainly get you there but will set you back around £700 and typically take the cost of your workstation beyond £2,000.
Now with the release of the AMD Radeon Pro W5500 those with more limited budgets can also get on board. At $399, it might be priced like a professional GPU for CAD or BIM, but it's significantly more powerful and can also be used for VR.
Specifications
The Radeon Pro W5500 follows on from the Radeon Pro W5700 to become AMD's second professional GPU based on its new 7nm 'Navi' RDNA architecture. The single slot graphics card features 8GB GDDR6 memory and four DisplayPort 1.4 outputs to drive up to four 4K displays.
The maximum power consumption is 125W and the board requires an external 6-pin connector, which is fed from the PSU. With this spec, it should be compatible with almost all desktop workstations, apart from the Small Form Factor (SFF) models, which tend to take low profile graphics cards.
The Radeon Pro W5500 is PCIe Gen 4 compatible, which offers double the bandwidth of PCIe Gen 3. The new interface standard is currently only available in workstations with 3rd Gen AMD Ryzen or AMD Ryzen Threadripper CPUs, but AMD's graphics card will still work perfectly well in PCIe Gen 3-based Intel systems. This isn't really a big deal for CAD or design viz centric workflows, however, as having more bandwidth is unlikely to make any real difference to performance.
In terms of positioning, the Radeon Pro W5500 sits below the double height 205W Radeon Pro W5700. We see it as the natural replacement for both the CAD-focused Radeon Pro WX 5100 (8GB) and the entry-level 'VR Ready' Radeon Pro WX 7100 (8GB), both of which are over three years old and are based on AMD's 14nm Graphics Core Next (GCN) design.
The competition
In terms of price point, the natural competitor to the Radeon Pro W5500 is the Nvidia Quadro P2200. This CAD-focused GPU launched in Spring 2019 as an incremental update to 2017's Quadro P2000. It has since become a mainstay in many CAD-focused workstations.
Both the P2000 and P2200 are based on Pascal, and not the newer Turing architecture which powers Nvidia's higher-end Quadro RTX GPUs. Fitted with 5GB GDDR5X, they feature less memory but have a max power consumption of 75W, 50W less than the Radeon Pro W5500. However, AMD claims a workstation powered by the W5500 actually consumes less electricity at the plug, in certain CAD-centric workflows.
Test setup
To test out the Radeon Pro W5500 GPU, UK firm Armari provided one of its excellent Magentar X Series workstations with the following specification:
AMD Ryzen Threadripper 3970X CPU (32-cores)
128GB of DDR4 memory
1TB Corsair MP600 PCIe 4 M.2 NVMe SSD
ASRock TRX40 Creator motherboard
Microsoft Windows 10 Pro
AMD Radeon Pro Driver version – Enterprise 20.Q1
Nvidia Quadro driver version – 442.19
The AMD Ryzen Threadripper workstation has a bigger brother, the Armari Magnetar X64T-G3 FWL, which we review in depth here.
Performance in CAD / BIM
When using CAD or BIM software, being able to move models quickly and accurately into position is important for creative flow. But with most CAD software being bottlenecked by the CPU and single threaded performance in CPUs advancing at a very slow rate, this is not always possible when working with large models. As a result, software developers have had to look for other ways to improve 3D performance.
The answer has been to temporarily simplify the model when it's in motion, then fill in the details once it stops. Different software deals with this in different ways. In Solidworks, for example, detailed geometry is turned into simplified blocks. In Autodesk Revit, lines, shadows and small objects are removed. In Autodesk Inventor, you can set a minimum frame rate between 0 and 20 Frames Per Second (FPS) and in order to maintain it, smaller objects disappear.
To accurately test the relative performance of GPUs we disable all performance optimisations, so the model is always displayed in full detail. Observing how the Radeon Pro W5500 and other GPUs work with Revit and Inventor exposes just how CPU limited these applications are, with all GPUs giving near identical FPS scores when rotating a model in a consistent way using a 3Dconnexion SpaceMouse Pro.
In general, we find anything around 20 FPS and above to be adequate for 3D modelling. Even lower frames can be acceptable to some but going below 10 FPS is undesirable. Our Revit hotel model is relatively small and while the Mastenbroek heavy machinery model in Inventor is larger, architects and engineers are certainly working on much more complex models. And as model complexity increases, frame rates will go down, increasing the reliance on the software's model simplification.
To illustrate just how CPU bottlenecked these applications are, we used the freely downloadable utilities GPU-Z, and CPU-Z. When rotating a model in Inventor and Revit, CPU utilisation hit 100%, but the Radeon Pro W5500 hardly got out of first gear, using only around 10-20% of its resources. In CAD/BIM applications like these, of which there are many, you could use a much lower specced GPU and still get the same 3D performance.
Solidworks used to suffer from similar problems in some viewing modes, but for the 2020 release it got a brand-new graphics engine that is much less CPU limited. In our siister publication DEVELOP3D we looked at the OpenGL 4.5-based graphics engine when it was still in beta in Solidworks 2019. You can read the in-depth article here.
In Solidworks 2020 we tested with a range of models and viewing modes – shaded with edges and with the more realistic RealView, with shadows and Ambient Occlusion enabled. We observed GPU utilisation to be significantly higher, often hitting 100%. It means users can get a real benefit from more powerful GPUs, as shown in our benchmark charts.
For our small to medium sized models, the Black Owl PC (295 components, 3.6M triangles) and production machine (591 components, 5.7M triangles) the Radeon Pro W5500 was well above the minimum ideal 20 FPS, even at 4K resolution. However, with our largest model, the colossal MaunaKea Spectroscopic Explorer telescope (8,000 components, 59M triangles), it fell below. If working with models of this size you'd probably want to boost performance by enabling Level of Detail (LoD). The Nvidia Quadro P2200 performed much better and only went below 20 FPS when RealView was enabled. It looks like AMD has some optimisation work to do here.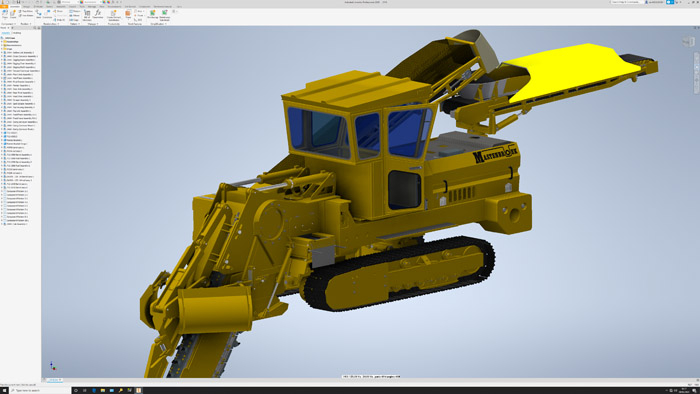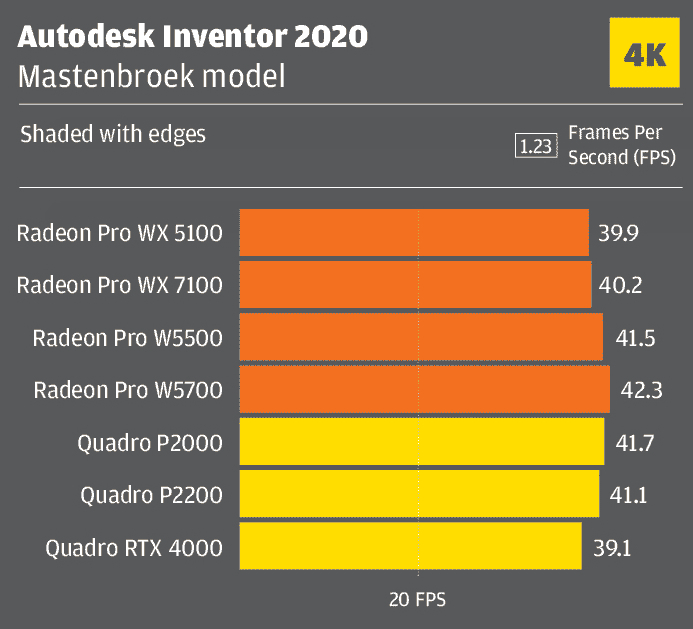 Autodesk Inventor, like many CAD applications, is very CPU limited, hence the very similar scores observed with all the GPUs we tested, in both shaded with edges mode (above) and realistic mode (below).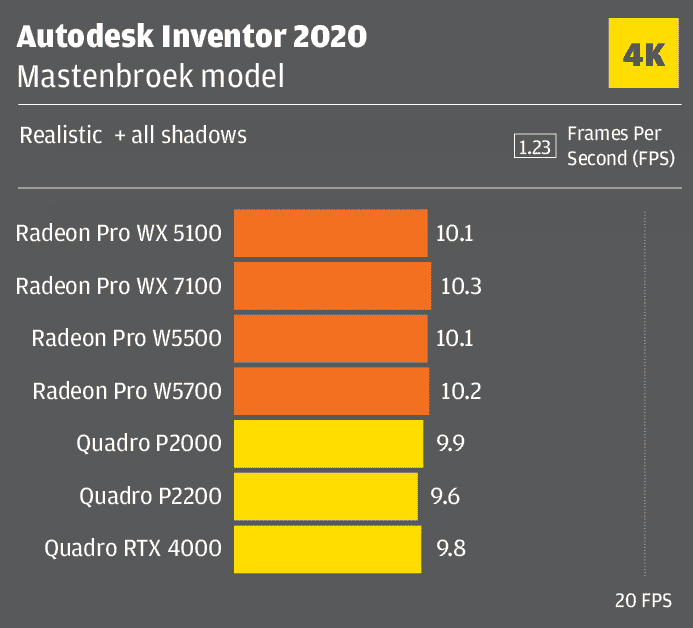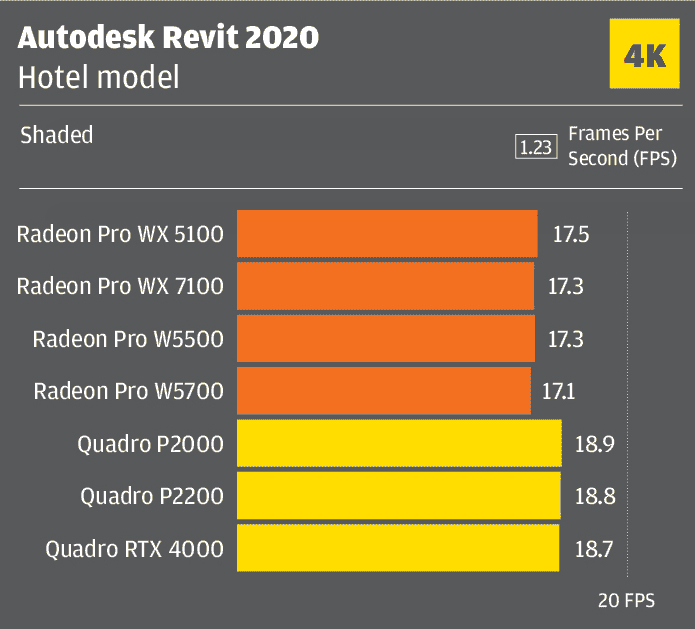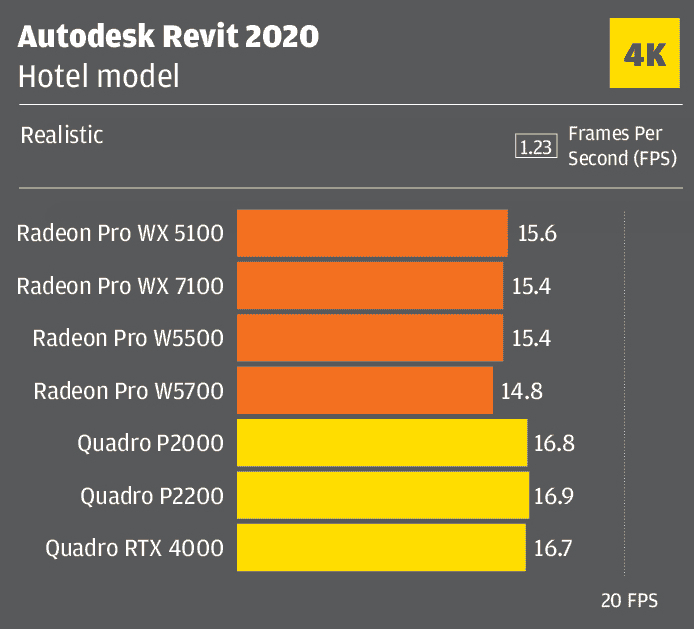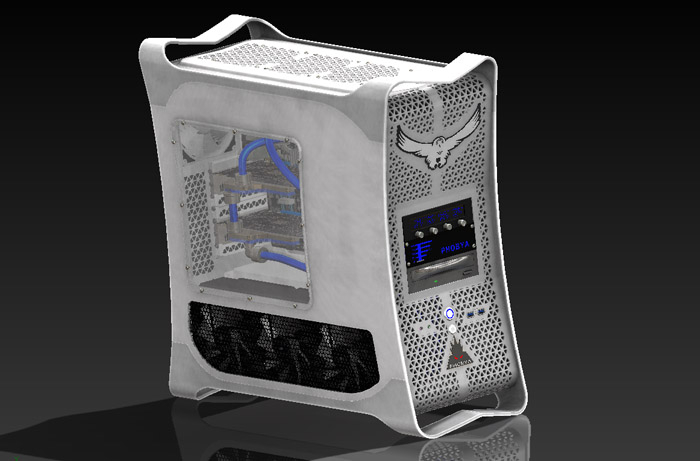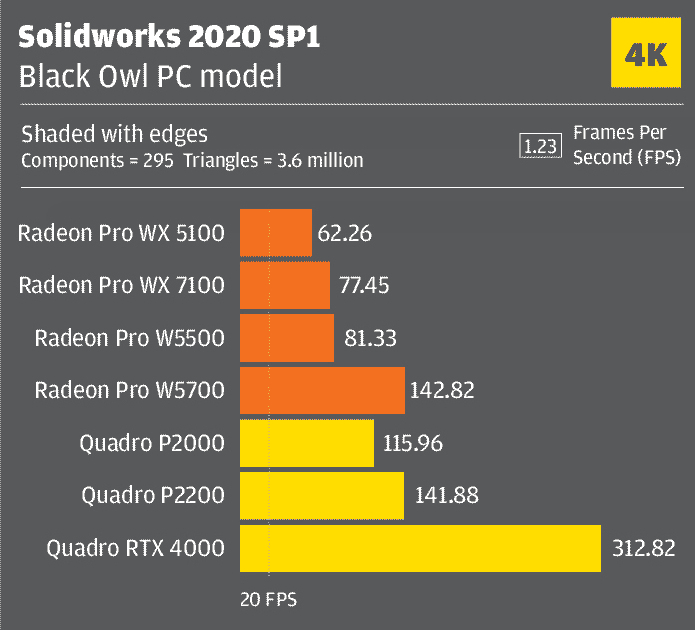 The Radeon Pro W5500 is slower than the Quadro P2200 but it easily delivers more than 20 FPS with this 3.6 million triangle Black Owl PC model, even at 4K and with RealView enabled (below)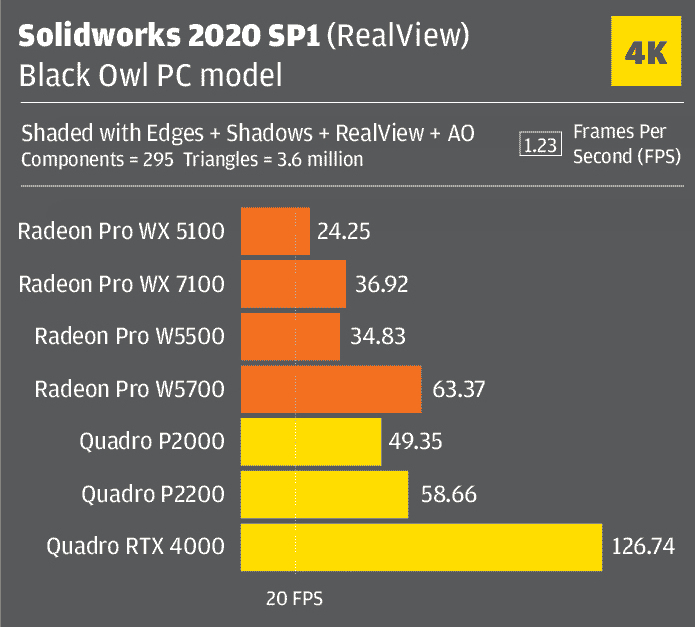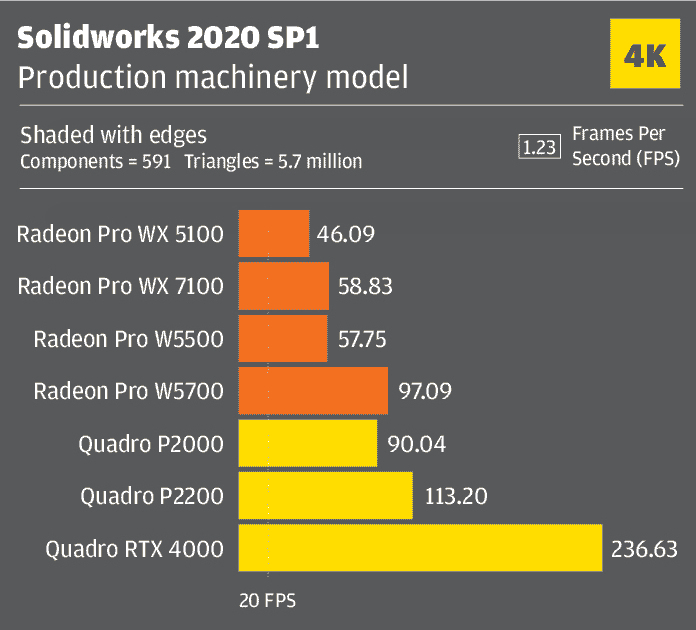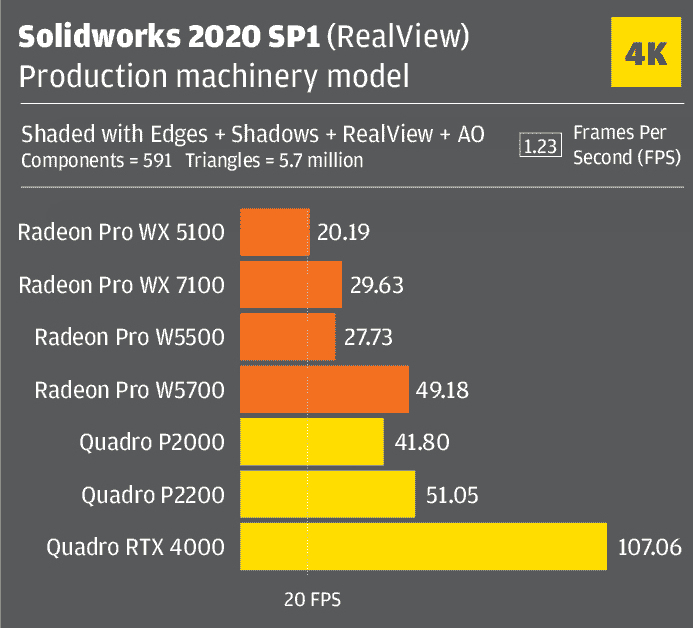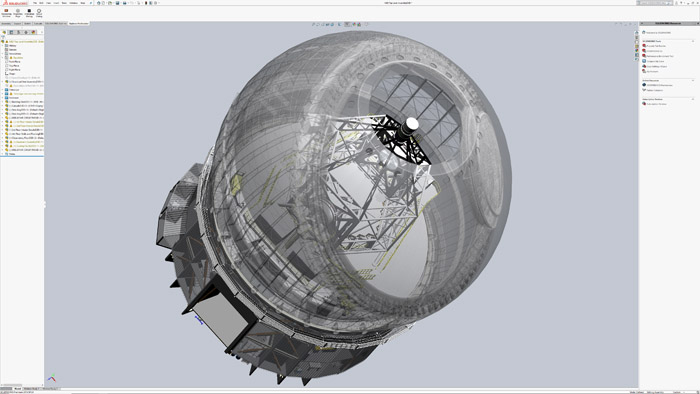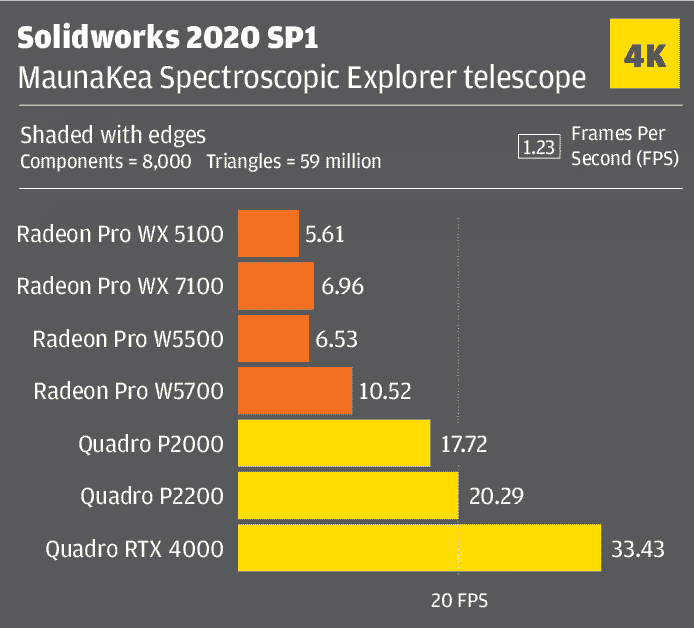 The Radeon Pro W5500 struggles with this colossal 59 million triangle telescope model. The Quadro P2200 has a clear advantage but you need a Quadro RTX 4000 to hit 20 FPS+ when RealView is enabled.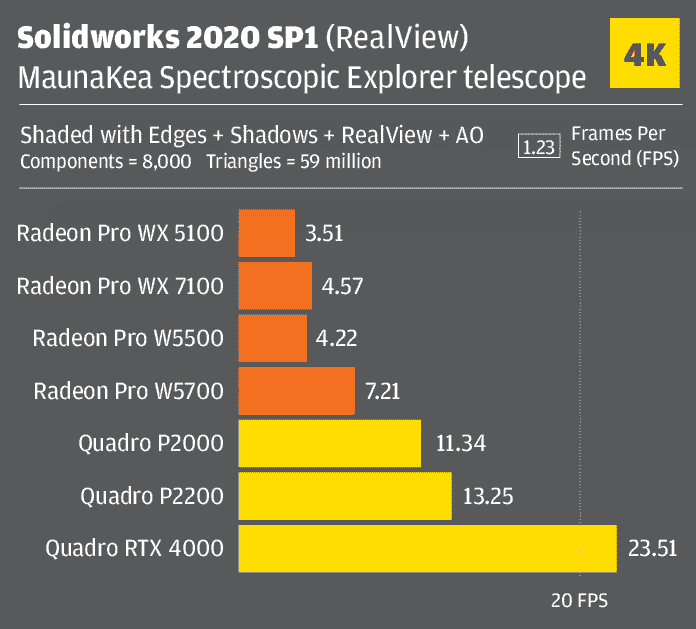 Performance in real time viz
Performance in CAD and BIM software may have been mixed, but the Radeon Pro W5500 starts to show its true colours in real time viz. It doesn't hit the heights of a design viz focused GPU like the Radeon Pro W5700 or Nvidia Quadro RTX 4000, but it does offer a significant benefit over the Nvidia Quadro P2200.
In the AEC-focused LumenRT it was between 25% to 31% faster. We experienced similar with our automotive test model in Autodesk VRED Professional, although the Quadro P2200 took a slight lead when anti-aliasing was enabled.
In Enscape, where we use a very large architectural scene of a museum and its surrounding area, the W5500's lead got even bigger at 4K resolution. This probably isn't down to the raw power of the GPU, however, rather available GPU memory. At 4K, the model needs around 7.5GB, which far exceeds the Quadro P2200's 5GB.
For CAD, 5GB is usually plenty, but because real time visualisation uses more realistic materials and lighting it often needs more.
But what do these results show us? In general, the Radeon Pro W5500 looks well suited to real time work at FHD resolution but may struggle with some scenes at 4K and above. If you need to maintain frame rates at these higher resolutions, you'd really need to look at a more powerful GPU.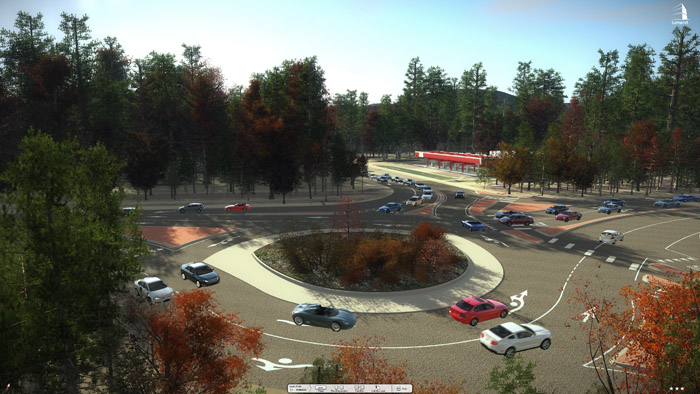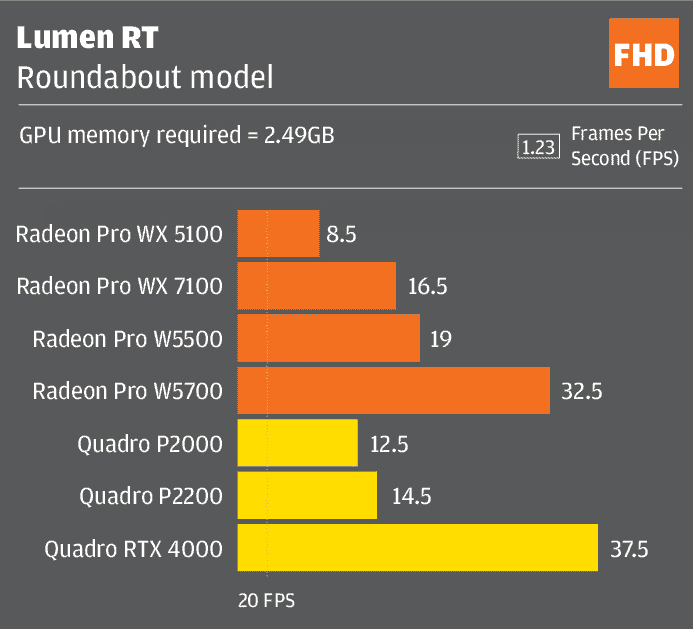 In the AEC focused LumenRT the Radeon Pro W5500 does well at FHD resolution (above), but slows down significantly at 4K (below)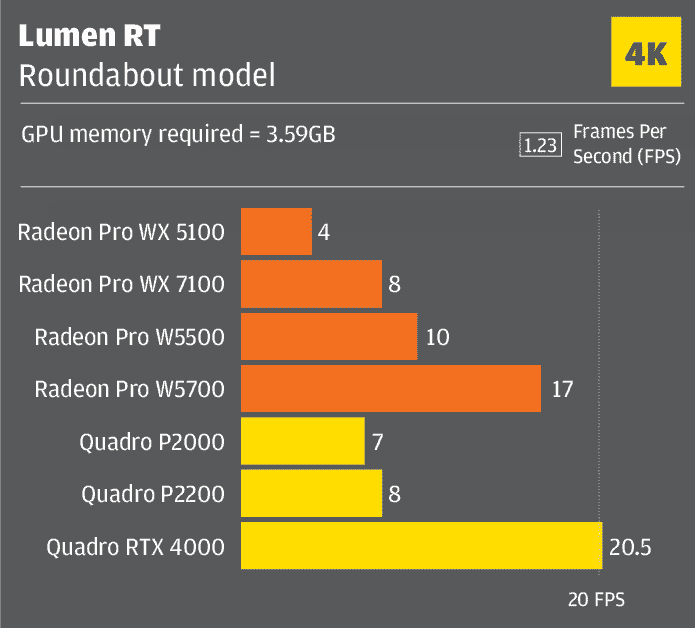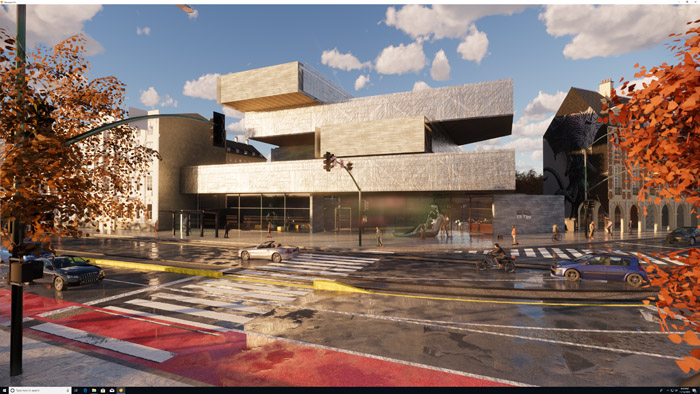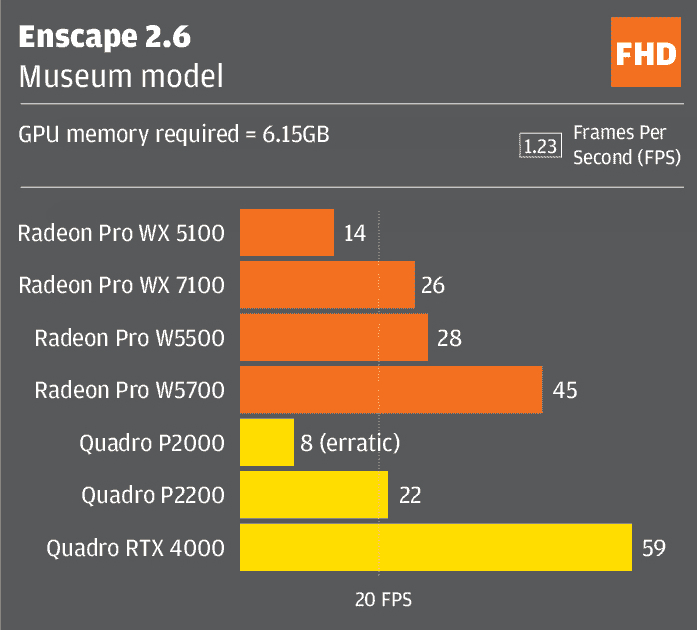 The Enscape museum model is very complex but the Radeon Pro W5500 still delivers more than 20 FPS at FHD resolution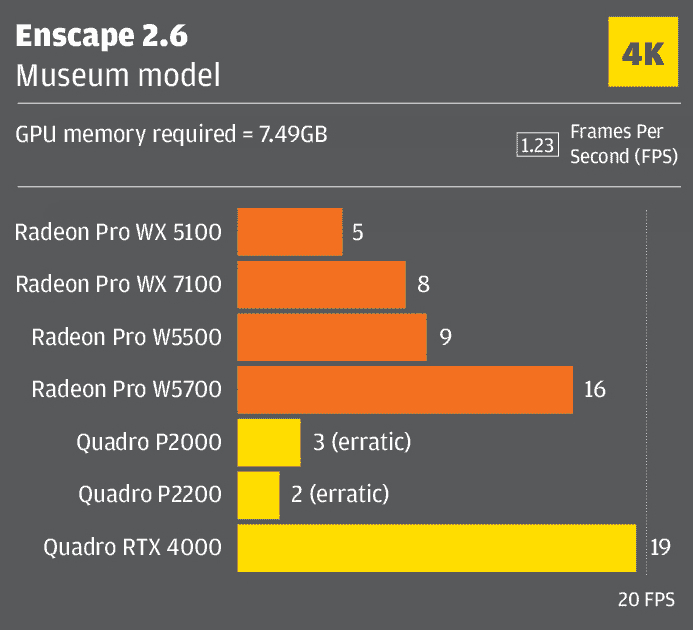 At 4K, this large Enscape model needs 7.5GB of GPU memory which explains why the 5GB Quadro P2000 and P2200 really stutter.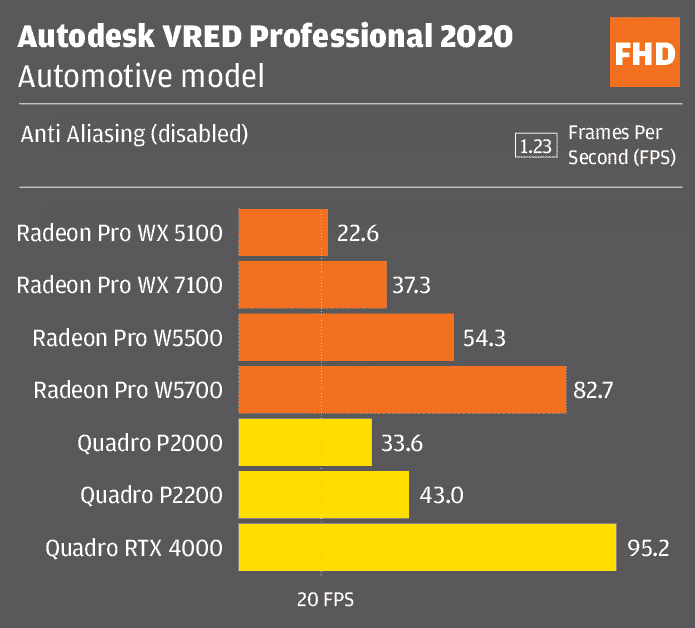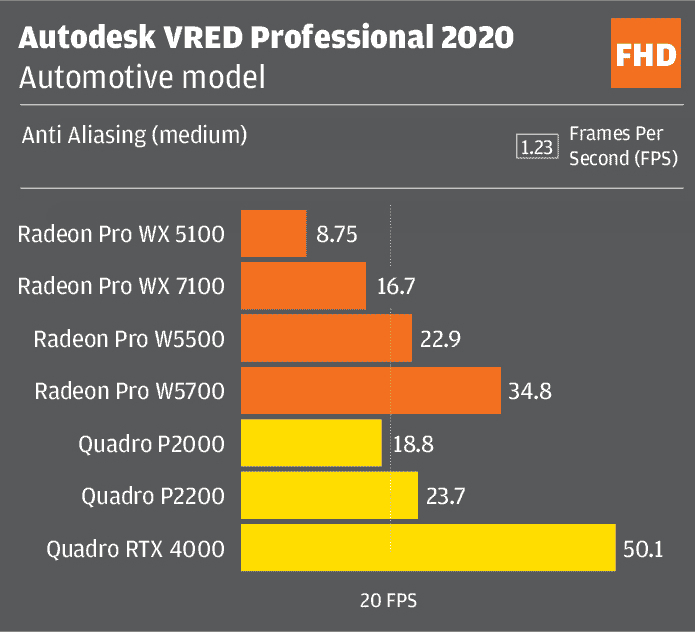 In automotive visualisation tool Autodesk VRED Professional at FHD resolution the Radeon Pro W5500 performed well, even with anti-aliasing enabled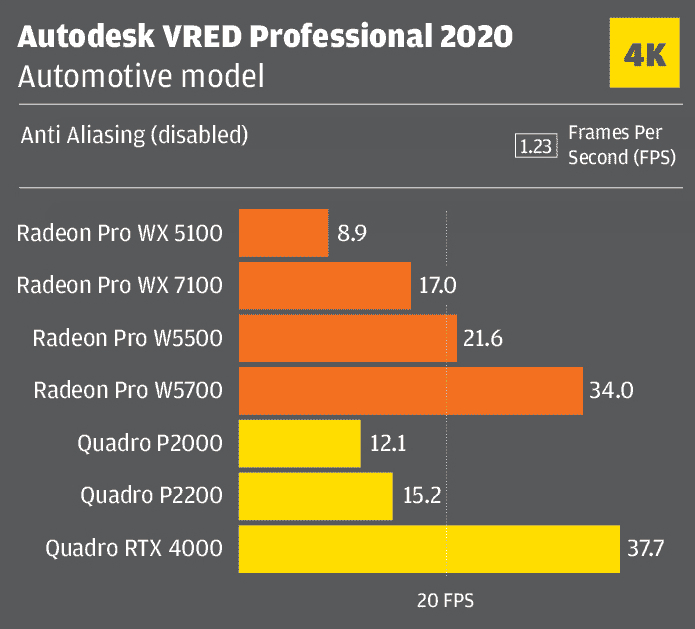 Even at 4K the Radeon Pro W5500 did OK, but it slowed down considerably when AA was enabled, losing out to the Quadro P2200 (see below).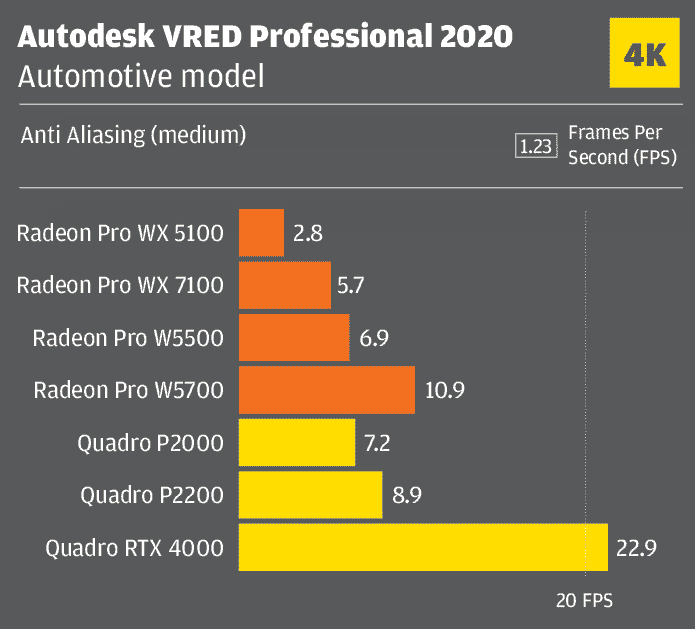 Performance in GPU rendering
In addition to real time 3D, the AMD Radeon Pro W5500 can also be used for ray trace rendering. However, its use is limited by application support.
As you'd expect, it works with applications that use AMD Radeon ProRender, either directly or via a plug-in. These include Autodesk 3ds Max, PTC Creo, Modo, Solidworks Visualize, Cinema 4D, Acca Software and others. It's not compatible with Nvidia Iray or Nvidia RTX which is found in Luxion KeyShot 9, V-Ray NEXT, Unreal Engine, Enscape and many others.
Solidworks Visualize 2020 supports both Nvidia Iray and AMD Radeon ProRender — but it's not possible to compare performance directly because there are visual differences between all render engines.
In the world of Radeon ProRender we were quite surprised by what we saw, with the Radeon Pro W5500 standing shoulder to shoulder with the more powerful Radeon Pro W5700. The GPU was also significantly faster than the Radeon Pro WX 5100 and WX 7100.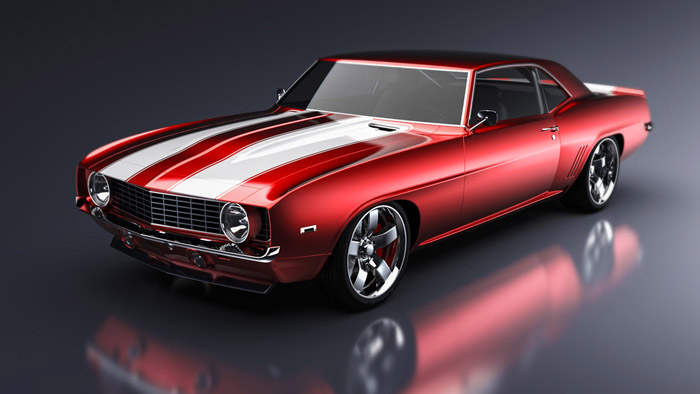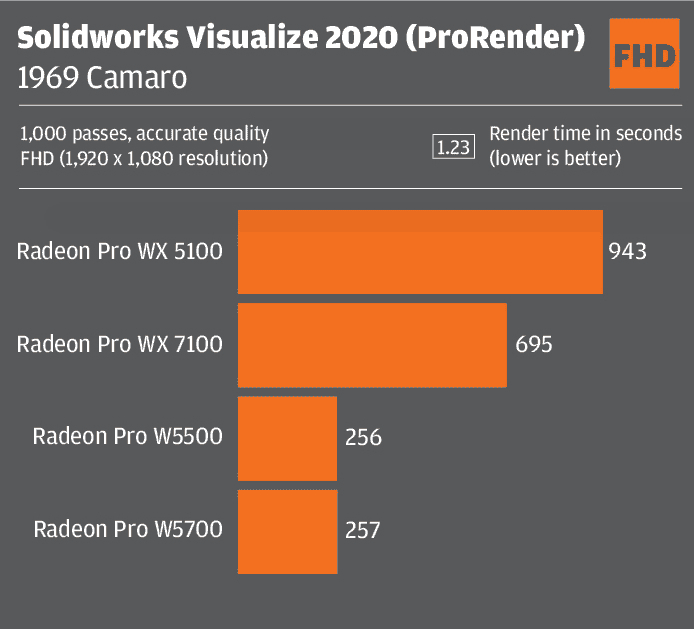 In GPU rendering, the Radeon Pro W5500 surprisingly stands shoulder to shoulder with the more powerful Radeon Pro W5700
Performance in VR
The Radeon Pro W5500 is the first sub $400 professional GPU that can be used for pro VR, but it's really for entry-level VR workflows. A quick run through the VRMark benchmark shows it to be around 13% to 23% faster than the Radeon Pro WX 7100 but significantly slower than the Radeon Pro W5700 and Nvidia Quadro RTX 4000.
Of course, VR for design, architecture and engineering is a complex matter and performance is not only influenced by the application, but the size of the dataset, the complexity of the geometry (number of triangles), how well the geometry has been optimised, as well as the lighting and textures.
We tested it out on some real-world CAD data using an Oculus Rift. In Enscape, we were pleasantly surprised to get a generally good experience with our colossal museum model, although for it to be completely flicker free from all angles we needed to dial down quality to low. However, for the excellent Enscape application, low quality is still pretty good.
In Autodesk VRED Professional we fired up the automotive Genesis sample model (5.7 million triangles). It worked fine with AA set to off, but flickered as soon as Anti-Aliasing was enabled, even on low. In summary, the W5500 isn't the kind of GPU you'd use for automotive styling, but it should do a pretty good job with less visually rich models, and in AEC workflows – unless you're working with really complex datasets. Here,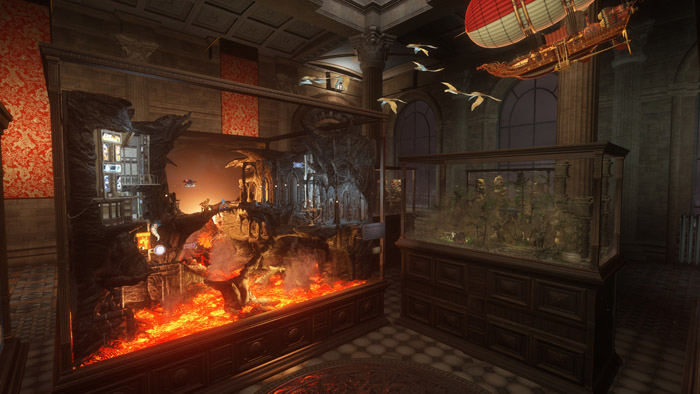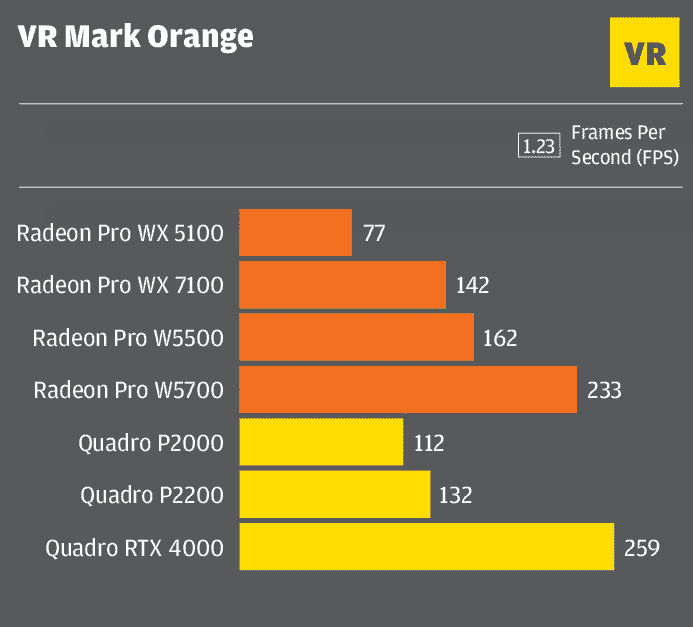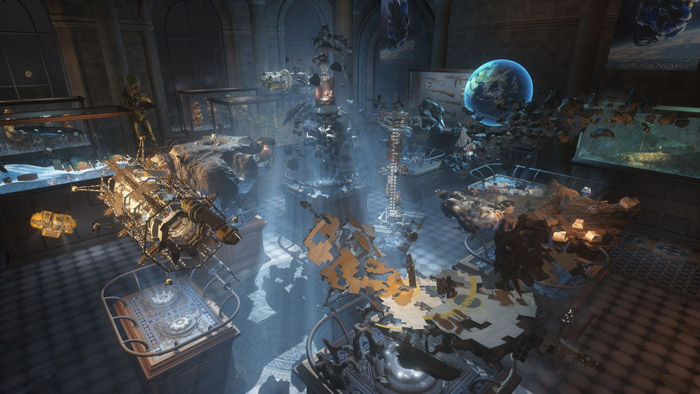 An 8GB professional GPU for CAD, VR and real time viz, all for $399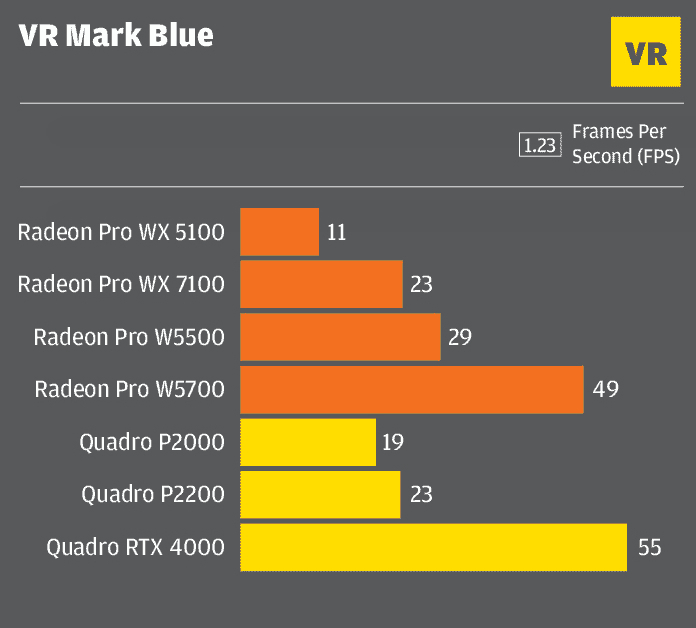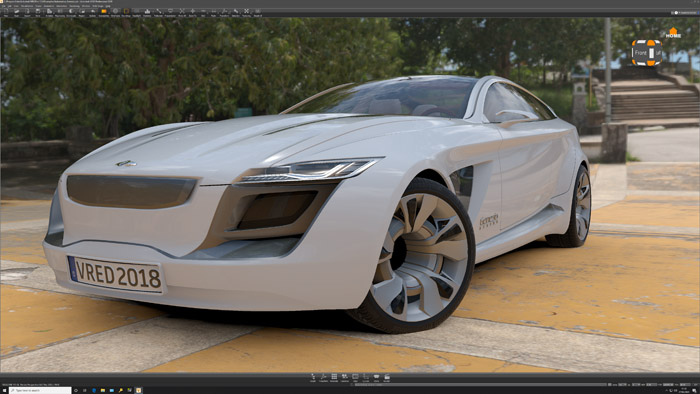 In VR using Autodesk VRED Professional, the Radeon Pro W5500 could handle this 5.7million triangle Genesis model, but only with AA disabled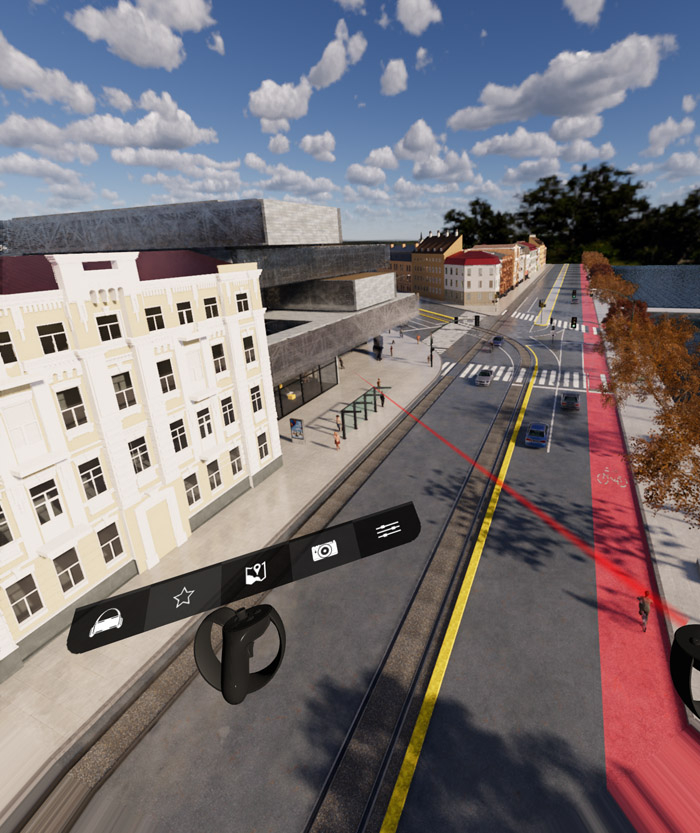 The Radeon Pro W5500 performed well in VR with this huge Enscape model that includes a detailed museum as well as several surrounding buildings.
it's important to note that the Oculus Rift is an entry-level VR headset with a per eye resolution of 1,080 × 1,200. With more modern headsets, which have higher resolution displays, so more pixels to render, performance may go down. This includes the HTC Vive Pro (1,440 x 1,600) Oculus Rift S (1,280 × 1,440) and HP Reverb (2,160 x 2,160).
Finally, with the W5500, you don't have to be tethered to your workstation to use VR. With AMD ReLive for VR, which comes with the Radeon Pro driver, users can get a professional wireless VR capability by streaming data from the GPU to an HTC Vive Focus Plus headset. We haven't tested it out ourselves with the W5500, but AMD has had ReLive for VR working with Unreal Engine and Solidworks eDrawings Professional. You can read more about it on DEVELOP3D.com.
Multitasking
AMD has made a lot of noise about the multi-tasking capabilities of the Radeon Pro W5500 and how it compares favourably to the Quadro P2200. The Radeon Pro team specifically highlights how its new GPU can maintain 3D performance even when the CPU is being taxed heavily on a multithreaded task like ray trace rendering.
We put this to the test, rendering a scene in KeyShot using the CPU, while modelling in Solidworks at the same time. Using the Black Owl PC model, the Radeon Pro W5500 maintained a solid 80 FPS, virtually the same as it did when KeyShot was not in use. Meanwhile, the Quadro P2200 went down from 141 FPS to 18 FPS, a significant slowdown.
There are workarounds for this that effectively tune your workstation. Setting CPU affinity, for example, which binds a process to specific CPU cores, can help reduce the performance impact on the Quadro P2200. With our 32-core Threadripper 3970X workstation we set Solidworks and the Nvidia Quadro driver to run on cores 1-4 and KeyShot to run on cores 5-32 and got a fast 139 FPS out of the P2200.
Of course, with a 32-core CPU you have the luxury of losing a few cores and not impacting render times significantly. But in a standard quad core or six core workstation you'd miss out on a lot by going down this route.
The AMD Radeon Pro W5500 also performs well when handling multiple GPU tasks at the same time. When rendering a scene on the GPU using Solidworks Visualize we got 27 FPS out of the Black Owl PC model in Solidworks. With the Quadro P2200 it went down to an unusable 6 FPS.
For the Quadro P2200, the extent of the performance impact does depend on how demanding the 3D application is. As mentioned earlier, Solidworks 2020 uses 100% of the GPU. With Autodesk Inventor, which uses far less, the Nvidia Quadro P2200 went down from 41 FPS to an acceptable 24 FPS and in Revit from 19 FPS to 12 FPS.
It's important to note here that with Nvidia's Turing architecture, the foundation for Quadro RTX, Nvidia has improved the multitasking capabilities of its GPUs considerably and from past experiences we've found the Quadro RTX 4000 can handle concurrent GPU rendering and real time 3D tasks very well.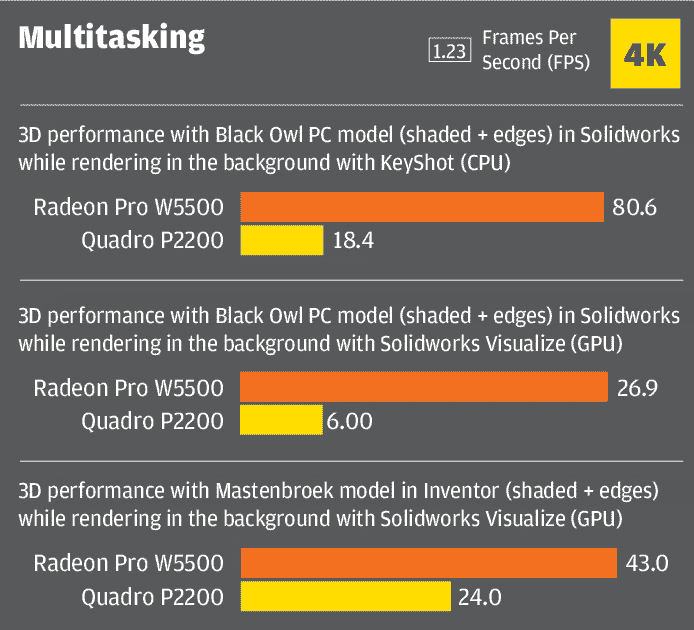 The Radeon Pro W5500 has a clear advantage over the Quadro P2200 when multi-tasking on the GPU or when the workstation's CPU is being hammered on a multithreaded task like ray trace rendering.
Remote working
One of the less publicised features of the AMD Radeon Pro W5500 is out of the box support for AMD Remote Workstation technology. As the name suggests, it allows users to access their physical workstation remotely, from 'almost any device' – PC, laptop or tablet. AMD says you get the same workstation experience you'd expect to get in the design office, although this will depend on the quality of your internet / network connection, both in terms of latency and bandwidth.
This feature should resonate with those that need to work from home on occasion (think flexible working, boiler service or sick child) or finish off a design in the evening. AMD doesn't charge a licence fee for the technology, which works with Microsoft Remote Desktop Connection and Citrix Virtual Apps and Desktops.
We tested it out using Microsoft Remote Desktop Connection on our local network and it worked very well, even over wireless. Setup is remarkably easy. In Windows, simply 'allow' remote connections to the host workstation then, on the client device, use the Remote Desktop Connection app to connect remotely.
Remote Desktop automatically uses the Radeon Pro GPU on the host workstation, so you get full 3D acceleration in your CAD application. In our tests everything was so responsive it felt exactly as if we were working locally. Nvidia Quadro GPUs also work with Microsoft Remote Desktop Connection and we got a similarly good experience with the Quadro P2200.
On a local network, this feature could be great for getting 3D acceleration into a meeting room without having to physically move a workstation, but the real power of the technology comes when accessing workstations from different locations. We didn't try this out as it's a bit more complex, involving port forwarding on the router and connection over virtual private network (VPN), but this should be bread and butter work for most IT depts.
Conclusion
With the Radeon Pro W5500, AMD has filled a bit of a gap in the pro graphics market, offering a GPU that goes beyond CAD into real-time viz and VR at a very competitive price point. Previously, a professional VR Ready GPU would have set you back around £700 + VAT. The W5500 is half that price.
Product designers and engineers will certainly take note, but the new GPU looks to be a particular attractive proposition for architects who increasingly want to augment their 3D design process with rich interactive visualisation or immersive VR. Client presentations are one thing but there is huge potential to use VR during the design process, dipping in and out of the virtual world to get a much better sense of scale and proportion for your evolving building. Previously, this simply wasn't possible with the typical workstation that sits on the desks of most architects.
The W5500 isn't for everyone. Those who simply use CAD, especially CPU limited applications like Revit and Inventor, could certainly get away with a lower spec GPU. In addition, those who take their real-time viz or VR seriously would be much better suited with the significantly more powerful Radeon Pro W5700, Quadro RTX 4000 or even the Quadro RTX 5000. But if you want to dip your toes into viz or VR, or give your entire design team the capability to do so, then the $399 price tag is much easier to swallow.
Of course, we don't expect Nvidia to stay quiet for long. Its current competitive card, the Quadro P2200, is based on its older Pascal architecture and there's a huge performance gap between the CAD-centric GPU and the powerful Quadro RTX 4000, which is built on the more modern Turing architecture.
AMD has said the Radeon Pro W5500 will be available from Dell in in the first half of 2020. We'd be surprised if other workstation manufacturers didn't follow suit.